Concierge medicine has been growing as people have begun to look into different ways to seeing a doctor. When wanting to avoid waiting times, and other inconveniences that may come with a visit to a doctor, concierge medicine can be a positive alternative.
Concierge medicine is a relationship between a patient and a primary care physician where the patient pays an annual fee or retainer. Patients can receive returned phone calls and same day appointments.  Some other benefits of concierge medicine are:
Follow-up
Personalized plan
24/7 availability
longer visits
personal attention
no co-payment or deductibles
These are just some of the many benefits associated with concierge medicine. Concierge care physicians are able to devote more time and energy to each of their patients. This healthcare option is definitely worth looking into if you are looking for a change.
Holistic and natural medicine are another option if looking for a change. Holistic medicine is a is the consideration of the whole body, mind, spirit, and emotions. In the holistic approach, the belief is that our well-being relies not just on our body physically but also psychological and emotional state. Both being equally important.
While many seniors may be reluctant to utilize these options because they usually only take cash and not insurance or Medicare options. Consider that is what makes these options empowering as they are NOT tied to insurance and Medicare restrictions. And could offer you life-saving, symptom relieving options that your Medicare Dr is not allowed to suggest.
Here is an Empowering Senior tip: Keep your primary physician for insurance-based visits and arrange a concierge physician as your backup for second opinions. And also, as an investment in your overall quality of life. See these medical doctors to have a review of your meds. In addition get suggestions for detailed supplements & vitamins and other preventative protocols and testing to enhance the way you feel. Furthermore, enhance your cognition and to hopefully add longevity to your mobility, independence and lifespan.
Below are Concierge Medicine/Direct Care Physicians and other alternative/holistic healthcare options in Wichita and the surrounding areas.
Riordan Clinic
3100 N Hillside St
Wichita, KS 67219
(316) 682-3100
The Riordan Clinic is a nutrition-based health facility. Their mission is serving communities by promoting health through integrative care, education, and research to inspire hope and healing. The approach of the Riordan Clinic is rather than focusing on a diagnosis and managing symptoms, their goal is to discover the root causes of disease.
Services
Vitamins and supplements
Naturopathic medicine
Integrative medicine
Functional/environment medicine
Nutrient testing
Infrared breast thermography
Programs
Discovery: Discovery Program addresses the needs of new patients who want to take a more natural approach to their wellness and focus on Real Health. $675 plus the cost of the lab profile(s).
Essential: The Essential Program is designed for those who are dealing with a long-term condition, or multiple health concerns. The cost of the Essential Program starts at $2,950.
Advanced: The Advanced Program is designed for patients who are dealing with complex chronic illnesses such as Lyme Disease, "Long Covid", Heart Disease, Fibromyalgia, and more. The Advanced program ranges from approximately $3,700 to $6,000.
Oncology: The Oncology Program is a specialized focus for our patients who are undergoing and active cancer diagnosis. The oncology program ranges anywhere from approximately $6,000 – $15,000 to begin, depending on the length of stay.
Costs
Costs range depending on program. Does not accept insurance. Certain plans of Medicare have been successful in paying for lab testing.
Visit Riordan Clinic for more information.
Prairie Health & Wellness
12115 E 21st St N #107
Wichita, KS 67203
(316) 440-7000
The Prairie Health & Wellness believes in empowering patients to live happier, healthier more fulfilling lives. Their goal is to create positive and lasting transformational changes. In addition, they believe the definition health is much more than the absence of disease. Using the functional medicine to solve the root cause of disease so patients experience a better quality of life and lasting results.
Services
Family Medicine
Women's Health
Men's Health
Pediatrics
Naturopathic Medicine
MNRI
Chiropractic
Lifestyle
IV Therapy
Labs
Research
New Patients
There is a hold right now on accepting new patients but you can be put on a New Patient Waiting List. Prairie Health & Wellness goal is to reduce wait times while adding new team members and services of the next few months.
Visit Prairie Health & Wellness for more information.
Vis Clinic
4825 E Douglas Ave. Suite 100
Wichita, KS 67218
(316) 425-3729
Vis Clinic is a functional medicine/nutrition center that focuses on the whole person while treating each patient in a uniquely individualized fashion. They use the science of nutrition to treat sustained or chronic illness, to prevent illness, to stay health, and to enhance the function and quality of life through lifestyle education
Services
Functional/Naturopathic Medicine
Chiropractic/Physical Medicine
Health Coaching
Auriculotherapy
Bio-Identical Hormone Replacement
Naturopathic Sinus Therapy
Therapies
IV Therapy
Nutrient Injections
Nebulized Glutathione
Ozone Sinus Therapy
Infrared Sauna Therapy
NormaTec Compression Therapy
Naturopathic Hydrotherapy
Programs
Therapeutic Food Plans
Cleanse Programs
New Patients
Accepting new patients
Visit Vis Clinic for more information.
Cognitive Performance & Health
10111 E 21st N #106
Wichita, KS 67203
(316) 260-9005
Cognitive Performance & Health is dedicated to providing health. Using appropriate medicine, when necessary, but attempt to reduce its usage. The goal is optimization of you. Your improved performance is our goal. The primary care practices are organized as direct care practice. This allows for Dr. Seberger to attend to the health of the patient . Which is the best way to obtain long term health and cost savings. We address many of the root causes of disease, and use lab testing to measure the degree of disease.
Doctor
Dr. Seberger M.D. Ph. D
Programs
Inflammation reduction
Vitamin supplementation
Cognitive measurement
New Patients
Accepting new patients
Visit Cognitive Performance & Health for more information.
H.O.P.E. Wellness Clinic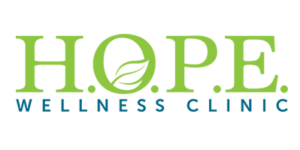 3730 N Ridge Road, Suite 400
Wichita, KS 67205
(316) 636-5333
Dr. Ben Bowers, Chiropractor
Hope Wellness Clinic specializes in and focus on holistic functional medicine. Using cutting edge technology and old world nutrition to treat choric illnesses. Hope Wellness incorporates multiple methods of evaluation and treatment to help people through: structural evaluations, chemical diagnostic testing, stool and urine evaluations, food allergy evaluations, DNA and genome evaluations, hormone evaluations, and counseling and education to improve lives.
Services
Chiropractic Manipulation
Sports Medicine
Internal Medicine
Women's Health
Men's Health
Weight Loss
New Patients
Accepting new patients
Visit H.O.P.E. Wellness Clinic for more information.
Docere Life Center
7570 W 21st St. N
Building 1010, Suite B
Wichita, KS 67205
(316) 531-3030
Docere Life Center's approach is to remove factors that are issues that weaken your life. Laboratory testing is key in discovering issues and monitoring those changes in the body that are specific to each patient. Most importantly, finding the best nutrition and remedies to rebalance the body to perform at its best is key.
Doctors
Dr. Kison Frank
Dr. Craig Farney
Services
Physical Medicine
Supplements & Remedies
Laboratory Testing
Therapies
Clear Mind Neurofeedback System
New Patients
Accepting new patients
Visit Docere Life Center for more information.
Atlas MD Direct Primary Care
Atlas MD Direct Primary Care – East Wichita
10500 E. Berkeley Square Parkway
Suite 200
Wichita, KS 67206
(316) 260-6454
Doctors
Josh Umbehr, M.D.
Doug Nunamaker, M.D.
Atlas MD Direct Primary Care – West Wichita
7570 W. 21st. St. N
Building 1042 Suite A
Wichita, KS 67205
(316) 854-3526

Doctors
Michael Palomino, M.D.
Jared Johnson, M.D.
Shawn Wadsworth, D.O.
Atlas views the patient-physician relationship as being made up of a team of equals with a single focus to help you reach your healthcare goals.
Benefits of Atlas MD
Personalized care tailored to your comfort level.
A physician who knows your story inside and out.
Choice to be seen at their office or at your home.
Same-day scheduling.
Quality time with your doctor.
Your doctor's cell phone number.
Inexpensive and direct service.
New Patients
Accepting new patients
Visit Atlas MD Direct Primary Care for more information.
Concierge Medicine of Wichita
1861 N. Rock Road #100
Wichita, KS 67206
(316) 462-1070
Concierge Medicine of Wichita is focused on getting to know you better as a patient and a person. Furthermore so they can provide you with better, more personalized care. Their premium services and expert physicians tailor your healthcare experience to deliver a comfortable, attentive medical partnership.
Doctor
Dr. Gadalla
Benefits
Customized plans
24/7 access by phone
Annual physicals
Same day appointments
Highly credentialed physicians
Dedicated staff
Prescriptions when appropriate
Order labs and x-rays when appropriate
New Patients
Accepting new patients
Visit Concierge Medicine of Wichita for more information.
Wichita Holistic
3700 East Douglas Ave
Clifton Square, Suite 60
Wichita, KS 6708
(316) 518-0050
In a healthy body the energies are constantly in motion, weaving through us and bringing natural healing and restoration. Using acupuncture needles as a fine as a strand of hair, Marty Golden, L.Ac. removes these blockage releases toxic energies. In addition, restores balance to the energy system, bringing it back into natural equilibrium and restoring its ability to heal.
Marty Golden, L.Ac.
Programs
Acupuncture
Zero Balancing
New Patients
Accepting new patients
Visit Wichita Holistic for more information.
Antioch Med
1126 S Clifton Ave
Wichita, KS 67218
(316) 350-8008
Antioch Med is a Direct Primary Care family medicine practice in Wichita, KS, with a mission to provide high-quality, full-spectrum, accessible, affordable primary care. Antioch Med offers comprehensive medical care as you would expect from any Family Practice clinic. Including treatment of acute illnesses and chronic diseases for children and adults, wellness education, laboratory testing, office procedures, and coordination of care with specialists when needed and much more.
Services
Primary Care
Doctors
Nicholas Tomsen, MD
Brandon Alleman, MD, PhD
Jody Elson, MD
Scott Cooper, MD
Jennifer Wipperman, MD, MPH
New Patients
Accepting new patients
Visit Antioch Med for more information.