Are you familiar with the phrase don't be a lone ranger? Hearing us tell you, again, that you should build a team may make us sound like a broken record, but that's how important this is. No matter how much you love someone living with dementia, it can be exhausting to care for and support them around the clock. You need a team, and so do they.
Having someone else, either a family member, a friend, or a professional, can give your person something to look forward to as well as a giving you a break.
But, how do you go about building a team for yourself and the person in your care? Read below the 7 tips to help establish your support network:
1. Identify the tasks that you may need help with
By Valerie Feurich, with content support by Beth Nolan, Ph.D.
Are there things you'd appreciate getting help with now? And what would be helpful down the road, as the dementia, including Alzheimers or other forms, progresses?
When you have a little quiet time, take a pen and paper and try to think of a list of things where getting help would make your life a little easier.
2. Sort the tasks by comfort level and relationship
Would you rather have your neighbor mow the lawn or clean your kitchen? While you may be good friends with the people living next to you, your level of intimacy with them likely plays into what you'd feel comfortable asking them to do. Take the list you created in tip #1, and see which tasks you'd feel comfortable with being done by the different people in your life.
Also, are there people close to you that may extend what they're already doing and thereby help you out? Maybe the neighbor's son can mow your lawn right after he does theirs, or a friend from down the street could simply cook larger portions of their normal meals to give to you? Try to see if there are some obvious ways in which people can help that doesn't cost them much extra effort, but could help you out a lot.
3. Don't be afraid to ask for help
Many people want to help, but may not be sure how. Others may be unaware that they could help make things easier for you, and wouldn't know unless you tell them.
You'll want to identify which family members, friends, or neighbors would be willing to assist, and the easiest way to find out is to simply ask. Don't get discouraged if someone turns you down; if you're open about your needs, you can find someone else to help.
Also, realize that just as you have certain comfort levels around doing different things, so do the people that you ask for help. While a neighbor may not feel skilled enough to assist your loved one while you're gone, they may be more than happy to take your shopping list and bring back what you need.
4. Offer two concrete choices
For this purpose, when someone has signaled they're willing to help out, you can learn what they feel comfortable with by using the PAS of choices. To do this, you'll want to offer this or that type options. As an example, you could offer for them to either stay home with your loved one while you're gone, or to run errands for you while you stay at home.
By giving them the choice between two concrete options, you can help speed up the decision-making process while also gauging what they feel comfortable with doing. And by allowing them to choose something that doesn't overwhelm them, they're more likely to continue helping in the future.
5. Start building your team early
While you and the person in your care may not need help today, realize that things will change as time goes by. As the dementia progresses, it can be difficult to add new people to the mix, so building in family, friends, and activities early on will be best for both of you.
Remember the Positive Action Starter in tip #4? You can also use this to determine who may be able and willing to help you long-term, or who is the one-and-done type person. By offering concrete choices, one being a one-time help and the other being a longer-term commitment, you may be able to gauge whether you can build a deeper, long-term relationship with this person.
6. Look for different ways of receiving help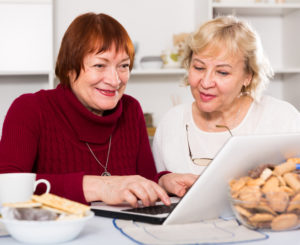 Quite possibly, not all of your family and friends live close to you. Even though loved ones may be far away, they can still help and contribute in different ways.
Maybe setting up weekly Zoom video-conference calls with a granddaughter who lives out of state would bring joy to your person living with dementia? Or maybe a sibling of yours could take on sending new clothes for mom, such as night-gowns, socks, and more, whenever needed? Or could friends send occasional letters and cards to help your person feel connected? Try to think if there are alternate ways of support that could help create moments of joy.
7. Explore community resources
Depending on where you live, you may have a variety of community resources available to you. Events through faith-based organizations or local support groups can be of assistance.
Conclusion
Caring for and supporting a person living with dementia can be tough. There will likely come a time when you need help, and having people nearby can have a significant impact on everyone's well-being.
Make a list of tasks that you may need help with now, and as the dementia progresses. Sort these tasks by comfort level and relationship, and don't be afraid to ask for help. Start building your team early, and use Teepa Snow's Positive Action Starter of concrete choices to help figure out comfort levels and future chances of assistance. Recognize that there are many different ways of helping, and that even those farther away may be able to support in one way or another. And last but not least, seek out community resources in your area.
While nobody can change the things you're going through, having a helping hand and a shoulder to lean on can ease the road ahead.
If you'd like to read more content like this, please visit www.teepasnow.com/blog.