Are you a friend or family member of someone living with dementia? If yes, you may soon learn that interactions with a variety of different healthcare professionals are a necessary aspect of the journey.
Strategies to Make the Most Out of Your Visits
By Polly Logan
Physical Therapists, Occupational Therapists, Speech-Language Pathologists and Dentists are just a few of the professionals you may likely encounter. Podiatrists, Physicians, Geriatric Nurses Practitioners, Physician Assistants, Hospice Nurses, Nursing Assistants, and Medical Social Workers are some more.
Sometimes all of the required medical information and coordination can be a bit stressful and overwhelming! Read on for some tips on how to help navigate these medical collaborations as smoothly as possible.
1. Do Your Research
If you aren't familiar with the different roles of the healthcare professionals you will likely encounter, do a little reading online or at your local library.
For instance, if you're not familiar with the different areas of focus between Occupational Therapists and Physical Therapists, it would be very helpful for you to learn more about their roles. Or, for example, maybe you're a little unclear about the role of a Speech-Language Pathologist in the world of dementia care. You certainly don't need to become an expert. Preparing and educating yourself as much as possible can be incredibly beneficial.
Then, when you meet with one of these professionals, do your best to stick to the area of their expertise. Asking your mother's physician for advice on incontinence products, for example, may not be the most helpful use of time.
Also, if available, consider the use of a Care Manager.  Care Manager may be able to assume the role of coordinating medical appointments and developing care plans. If you are short on time, such an individual may be quite helpful.
2. Create a Top Three List
To make the most out of your visit with a healthcare professional, write down your top three concerns or questions before the appointment. When you are creating the list, consider input from the individual living with dementia, as well. They may have a question or concern of which you were not aware.
Let the provider know at the beginning of the appointment that you have three main concerns you would like to address. This helps them know how to balance the time of the appointment. It also helps to keep the conversation focused. This means that it is much more likely that you will receive answers to your most urgent questions.
3. Set Up for Success
During the appointment, it is best if the healthcare professional can see and speak with both you and the person living with dementia at the same time.
Typically, it is helpful if the health care professional can be positioned to the right-hand side and out in front of the person living with dementia. You would then sit next to them on the other side. This allows the healthcare provider need to look across the person living with dementia to speak with you.  They are able to see both of you without needing to turn their head. This may require you to kindly ask, Would it be okay if I moved this chair a little bit? to set up the room appropriately.
Since the appointment is, after all, about them. It is critical to have the person living with dementia feel included in the appointment. This is true even if they are no longer able to verbally express themselves. Think about it as a Care Triad that involves you, the person living with dementia, and the healthcare provider. Some healthcare professionals are excellent at including the person living with dementia and some are less so. Setting the chairs up in this way makes it more likely that they will be included.
Also, be sure to include the person living with dementia verbally, when appropriate. You may say something like, Now, Dad, one of the things we talked about was how you felt your new medicine was working for you – did you want to tell the doctor your take on that, or did you want me to talk about it?
If there is something that you want to address but it would be uncomfortable to be brought up during the appointment, don't hesitate to reach out to the healthcare professional to discuss this ahead of time. Offer to allow the healthcare provider to speak with the person living with dementia one-on-one for part of the appointment, if that would be helpful.
4. Take Notes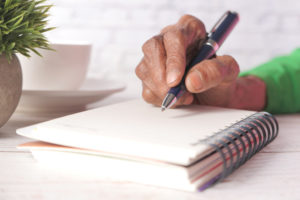 It is highly recommended to take notes or audio record your appointments with healthcare providers. Be sure to ask their permission before audio recording. This is legally required in some states and countries.
If recording is not an option, you may instead choose to bring along someone else, other than the person living with dementia. That can help take notes during the appointment.
Writing or recording the information is critical for understanding and follow-through. The visit may involve quite a bit of new information and medical jargon, and it may be very difficult to retain it all. Especially if you are also attending to the individual living with dementia.
Also, if the healthcare professional is using a lot of medical language that you are having trouble understanding, don't be afraid to ask them to clarify or to admit that you don't understand a word they are using.
5. Summarize
At the end of the appointment, provide a very brief summary. Say to the healthcare provider, So what I think I heard you say was… List the important points you heard, and let them clarify, if needed. This will help prevent miscommunications and misunderstandings, which can unfortunately be all too common.
Then, ask about the necessary next steps. For instance, Now, were you going to set up the referral for physical therapy, or should I call? This helps to ensure that you understand what your responsibilities are. Also it helps the plans get set in motion. It is also important to create a plan for how the necessary information or changes from the appointment will be communicated to the rest of the care team.
Conclusion
Navigating the world of healthcare during a dementia journey can often feel like you're on a small boat in a stormy sea. If you do your research, create a top three list, set up for success, take notes, and summarize, you may be able to find smoother sailing.
Also, try to remember that kindness and politeness can make a significant difference in the outcomes of appointments. If you are feeling incredibly stressed and overwhelmed, seek out help or support for yourself in other avenues.  Rather than inadvertently unloading your stress on the healthcare professionals. Strive to work as a team with them toward the goal of providing the best possible quality of life for your friend or family member.
If you'd like to read more content like this, please visit www.teepasnow.com/blog