Have you considered bringing home your loved one living with dementia during this pandemic? Has the community that they are living in notified you that they will no longer care for them? A situation like that can be very trying and difficult for families who are trying to juggle their current lives, while also wanting to ensure their loved one is safe and well cared for.
By Valerie Feurich
These situations are highly individualized, and what will work for one may not work for others. Yet, having some points to think through can help you make a more informed decision, so we've put together the three considerations below to help guide your thoughts:
1. Process your emotions
A major life change, whether it involves a poor care situation you're looking to pull your loved one out of, or one where the facility initiates the move, may trigger some very real, core emotions. The situation may not feel right or fair to you, or you may experience anger and frustration.
Questions like Do I need home health services or home care services?, Do I need a nurse?, What are the rules on reimbursement?, Can I be reimbursed for providing support and care?, What about supplies, equipment, meals, laundry, or medications?, can easily overwhelm even the steadiest of people.
You may also feel really sad. Your loved one may have progressed to a stage that you can no longer care for them. Or, the community that you put your trust in, no longer is able to offer the support and care your loved one truly needs.
To help you process your emotions, see if you can find somebody to talk this through with. If you don't have someone to do this with, consider writing it out or doing something else that helps you settle your emotions.
Because the truth is, you will not be able to think clearly while you're still upset. Your emotions are coming from your primitive brain, which inhibits rational thinking when in a high state of alert. So, see if you can find somebody to talk this through with, to help you settle your emotions and then more calmly examine the situation.
Also, see if you can involve the rest of your family, as they'll be part of this change if you decide to bring your loved one home. And if it's just you, start looking around and make a laundry list to see who you can pull in for support.
2. Evaluate what you can let go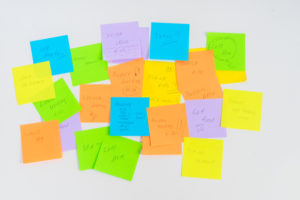 Likely, your life is already filled with tasks, responsibilities, and relationships. As you're considering your next step, is there something you can redistribute? Are there current tasks someone else can do instead? What can you shift? Where do you have wiggle-room?
See what you already have and what you'll need to have in place before you bring in the person. You'll want to have a fairly firm foundation because this is a lot to take on. As Teepa would say, there's a laundry list beyond the laundry list. Consider the food list, the equipment list, the fiscal list, a supply list, an activity list, a staff list, a skill-learning list, and more.
The intent is not to overwhelm you with all of this, but to help you consider how much give you have in your life before you get further down this road.  Be sure to consider all aspects and be honest about the situation, before adding this fragile person to your midst.
Alternatively, if you read through the lists above and realized that you will not be able to keep up with all of this while managing your other areas of life, see if you can find someone else to be the lead of your loved one's future care. This is difficult, but realize that you can only add so much to your bucket before it overflows.
3. Look at the person you will be supporting
Who is that person? What's their story and their history? What are their abilities now? And what does that mean for time use, for providing nourishment and hydration, their environment, movement, space, equipment, and more? Ask yourself these questions, look at all factors, and look at the space you have available to see if your current setup would suffice.
Some of this information can be tricky to figure out right now if there is limited access to the person due to COVID. If you feel like you don't have accurate information, could you have someone go in for an assessment before you take this on?
Getting notes and information, such as about recent treatments, can help you get a handle on the current expectations of their daily care routine. Knowing when the person is sleeping, when they are awake, how are they doing with personal care tasks, how they're doing with mobility, etc., can help you better evaluate the situation and prepare.
Conclusion
Many people call the time they're placing their loved one in a care setting one of the hardest, most difficult, and painful times of their life. And others will say, I was finally able to take a breath. Each person is unique and different, as are people living with the brain changes that come with dementia.
Please know that the goal of this blog is not to scare you, but to help you recognize the enormity of what you might be taking on. Take a deep breath and ask yourself What is the bottom line of okay? What is the game plan, and who is going to help?  
Try to process and settle your emotions to help you evaluate the situation clearly. Think through your current life, and consider what you'd be able to let go to take on these many new care responsibilities. Look at the person that you'd be caring for directly, and consider their current abilities and needs before making a decision.
Most of all, realize that you will need support. Doing this without the help you need is a recipe for distress, and distressed care isn't viable for very long.
As Teepa would say: What we think may happen, may not happen. But if we don't do planning for the probable, we miss our opportunity for the possible.